THE REPORT
The findings of the Deer Committee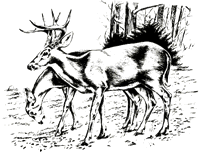 RESOURCES
FOR RESEARCH
COUNTY ALLIANCE
Fairfield County Deer Management Alliance reports.
THE DEER PROBLEM
A Ridgefield High School ninth grader does a research paper on deer in town.
CONTRACEPTION
Talk by Dr. Georgina Scholl
AUDUBON
Audubon Greenwich's deer management plan
GREENWICH
What's planned there?
FACT SHEET
State's official information on White-tailed Deer (PDF file).
LYME DISEASE
State Health Department information.
TOWN WEBSITE
Information on Ridgefield's government.
The Ridgefield Deer Committee
Page updated 10/14/2008
The Ridgefield Deer Committee, which had its first meeting in September 2004, was created by the Board of Selectmen to determine the extent of the overpopulation of White-tailed Deer in Ridgefield, and if and how the town should deal with the problem.
The committee consisted of 19 members, representing a wide variety of backgrounds. To learn more about the committee and about the issue of deer, visit the links at the left.
On June 27, 2005, the committee voted 17 to 1 to approve a report that contains many recommendations, including controlled hunting on town-owned property.
The report, viewable through a link at the top left, was presented to the Board of Selectmen July 6, and its recommendations were subsequently approved.
The selectmen then created a deer management committee to implement the hunting recommendations in the committee's report.
In 2006, the town had its first controlled hunt. A year later, the hunt was expanded to additional town-owned open spaces, and in 2008, still more conservation lands were added. (Several large pieces of state-owned land are already open to hunting.)
Hunts involve both bows and guns, depending on season.
For information on Ridgefield's controlled hunts, and the Deer Committee in general, call Tom Belote, chairman, at 431-6430, or email him at tom [at] belotelaw [dot] com.