Books and Other Projects
by Jack Sanders

Click title for more information
---
The Secrets of Wildflowers, more than 300 pages describing the natural history, folklore, uses, name origins, and horticulture of hundreds of North American wildflowers, including 90 color photographs by the author. Published by Lyons/Globe-Pequot. (Due out in April.)
Ridgefield Postcards: 1900-1950. An illustrated history of Ridgefield, featuring more than 215 postcards produced in the first half of the 20th Century. Filled with interesting and entertaining facts and anecdotes about the town, its places and its people. Published by Arcadia. (Due out in the spring
.)
<![if !supportLists]>

Internet Guide to Birds and Birding: How to use the 'Net to enhance your enjoyment of bird-watching. (McGraw-Hill, 1999)
<![if !supportLists]>

Internet Outdoor Family Fun Yellow Pages: A guide to more than 2,000 sources of information on ways to enjoy the great outdoors. (McGraw-Hill, 1999)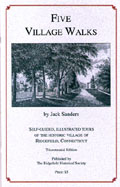 Five Village Walks: A 56-page walking history tour of the center of Ridgefield, Connecticut. (Ridgefield Archives Committee, revised and enlarged edition, published December 2000)

Hedgemaids and Fairy Candles: The Lives and Lore of North American Wildflowers. McGraw-Hill hardbound and paperback editions (1993, 1995) are now out of print, but can be found used on the Internet. (Used copies of the book are usually available at www.abebooks.com, www.FetchBook.Info www.tomfolio.com, or www.bibliofind.com; just search under titles for "hedgemaids.")
Some Books by Friends
Kangaroo Dreaming: An Australian Wildlife Odyssey

, by Ed Kanze: Ed and his wife, Debbie, spent more than a year traveling 25,000 miles around Australia to observe its wildlife. This lively book describes their many adventures.


Tabloid Baby

, by Burt Kearns: A lively look at the world of tabloid television, by a former Ridgefield and Wilton reporter/editor who became managing editor of the tab-TV shows, Hard Copy and A Current Affair.


Forget About Murder

,

by the late Elizabeth Daniels Squire, the most recent in her Peaches Dann mystery series by a former reporter for our newspapers. In this one, absent-minded Peaches becomes a reporter. Ms. Squire died suddenly in February 2001.




An American Killing

by Mary-Ann Tirone Smith, a much-praised murder mystery set in Washington, D.C., and Rhode Island, by a top-notch Ridgefield novelist.




Paul Hazel

is the author of four sophisticated and respected fantasy novels, currently out of print but readily available through used book dealers (accessible by clicking on his name). The longtime Ridgefielder is personnel director of the Ridgefield schools.
Electronic mail address
jack@sandersbooks.com

Web addresses
This website: http://www.sandersbooks.com
Jack and Sally's webpage: http://www.acorn-online.com/hedge/home.htm
Mailing address:
Box 502, Ridgefield CT 06877
---
Last revised: January 23, 2003