Old Town Cemetery or "Ye Burying Yard"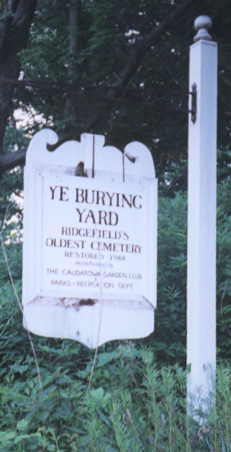 Ridgefield's first cemetery is the "Burying Ground," laid out by the first settlers in 1708.

Located on Wilton Road East, just south of the Main Street intersection, the graveyard is marked with a monument (

see below

) reading: "Ye burying yard lay'd out ye Nov. 25, 1708 by the first settlers of the town of Ridgefield."

The marker goes on to list 40 pioneers who are buried there as well as "an unknown British soldier killed at the Battle of Ridgefield."


The Village Improvement Society erected the monument in 1931 after vandals and the elements had destroyed most of the old stones.

When he was writing his History of Ridgefield in the 1920s, George L. Rockwell found only two tombstones still standing in the old burying ground. Reportedly, some were used for house foundations.


By 1973, nothing remained except a small portion of a slate stone that said: "54th year of his age." It belonged to the grave of Capt. Matthew Benedict, "who departed this life July 7, 1757" and who was born five years before the town was settled.


By 2001, that stone was not visible and only the monument was there.

The following are names of people believed buried at the Old Town Cemetery or "Ye Burying Yard," as recorded in

Headstone Inscriptions Town of Ridgefield, Connecticut,

copied in 1934 under the auspices of the WPA and sponsored by the Connecticut State Library, and compiled in typescript in December 1937. This text labels this cemetery as "Old Town Cemetery." The names were probably copied off the 1931 monument:

Samuel Keeler
Sarah Keeler
Annie Benedict
Uzziel Hyatt
John Sturdevant
Ruth Keeler
Rebecka Sherwood
Thankfull Burt
Richard Osburn
Sarah Osburn
Abigail St. John
Sarah Smith
Abigail Wood
Daniel Whittamore
Hannah Keeler
Daniel Olmsted
Elisabeth Northrup
Nathan Smith
James Bennett
Sarah Keeler
Henry Whitne
John Osburn
Abraham Whitlock
William Ventrum
Abigail Rockwell
Sarah St. John
Mary Smith
John Nicholas
Mary Gates
William Northrup
Abigail Lowder
Mary Lowder
Mary Rockwell
Rebeckah Rockwell

James Osburn
Mary Rockwell
Jeremiah Benedict
Captain Matthew Benedict
Jonathan Rockwell
An unknown British soldier killed at the Battle of Ridgefield.