East Ridge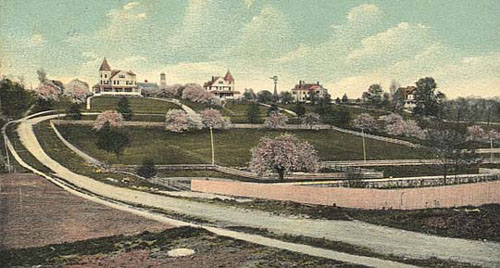 Four elegant Victorian houses from the 1890s are shown in this LithoChrome card, printed in Germany around 1907. The house at left, once part of the Misses Vinton School for Girls and later the long-time home of State Police Troop A, has been the Ridgefield Police headquarters since around 1977

Most of the fields shown here, including some orchards, belonged to former Connecticut Governor Phineas C. Lounsbury, who lived up the hill (to the right, foreground) in what is now the Ridgefield Community Center. Today, these are town-owned athletic fields.

The road shown in the foreground is now Governor Street. East Ridge Road runs from left to right a bit in front of the houses. The old Ridgefield High School, originally an elementary school built in 1913, would have been just to the left of this view; the building is now the Richard E. Venus Municipal Building, housing various community offices. To the right, today, is East Ridge Middle School, built in 1966.