Altnacraig
a spectacular High Ridge mansion that burned down.

The Bailey Inn
well-known tourist stop in first quarter of the 20th Century.

The Bissell Building
a view from the 1950s of the building that burned down in 2003..

Branchville
looking across the Norwalk River.

Branchville Station
Two very early views.


Branchville Silex Mills
once Ridgefield's biggest factory.

Cannonball House
now the Keeler Tavern Museum, in a wonderfully colored view.

Cass Gilbert Fountain, designed and donated by a leading American architect who lived in the Cannonball House (above).

East Ridge
sweeping view east of Main Street.

The Elms Inn
then called Elm Shade Cottages.

Firehouse
on Catoonah Street, shortly after it was built in 1908, with fire bell tower.

First National Bank
at Main and Governor Streets, showing a couple of chauffeurs chatting with a man in a straw hat.

Graeloe
the estate that's today Ballard Park and was once the home of a Revolutionary hero.

Governor Street
with East Ridge in background, showing a family about 1908.

Grovelawn
home of Gov. Phineas Lounsbury, is now the Community Center.

Hermit of Ridgefield
showing George Washington Gilbert and the saltbox that crumbled around him.

Holy Ghost Novitiate
later acquired by the town, now housing for elderly.

Lynch Estate
high up on West Mountain, and a view therefrom.

Main Street
looking south from Ridgefield Pharmacy around 1910.

Main Street
looking north from south end, with two side-saddled women ca. 1908 view.

Main Street
looking north from opposite Rockwell Road, showing homes and lawns and a glimpse of the Corner Store.

Main Street
including Walker's Happy Shop and S.S. Denton building, late 1920s.

Methodist Church
a beautiful building that stood in the heart of the village and was, alas, razed in the name of "progress."

Northern Main Street
showing the large old maples around 1907.

Outpost Farm
The home of Col. Louis D. Conley was the center of what's now the 'Bennett's Pond' property.

Outpost Inn
on the site of Fox Hill condos, was built for a bride, and was torn down by a man who went to prison.

Port of Missing Men
on Titicus Mountain, once a resort for wealthy sportsmen and now the Eight Lakes neighborhood..

Railroad station
on Prospect Street, now part of Ridgefield Supply.

Ridgefield Inn
in its heyday around 1910. It also served as Ridgefield School for Boys (below).

Ridgefield School for Boys (and Ridgefield Inn)
south end of Main Street

Ridgefield School
on a 115-acre campus off North Salem Road (1911-38).

St. Mary's Church, Rectory
around 1910.

The Scott Block
where the post office was in the 1920s.

St. Stephen's complex
showing the old church later razed, and the rectory, later moved.

Smith Tavern
a 19th Century watering hole on the site of the present library.

Stebbins House
a hospital during the Battle of Ridgefield in 1777.

Sunset Hall
the estate once eyed as headquarters of the United Nations.

Town Hall
around 1905, showing women in Victorian garb, a horse and carriage, and the old firehouse.

Upagenstit
West Lane estate of Frederic E. Lewis, later home of an international revolutionary and bridge player, then a college for women, finally alleged Communist hangout.

West Lane
looking eastward from around Parley Lane.

West Lane
looking westward from around Parley Lane.

West Lane Schoolhouse
where Peter Parley got his early education.

The Wiggins place
home of the man who made Chase the richest bank in the world.

Windover
West Lane estate of Life Magazine founder and novelist John Ames Mitchell.
on RidgefieldHistory.com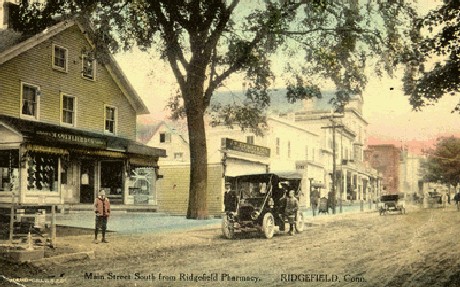 Main Street looking south toward town hall (in distance) about 1915

Here are early 20th Century postcard views of Ridgefield, Connecticut, from a collection that includes more than 600 postcard pictures of the town in the first half of the century.
Because Ridgefield was considered a "resort town" early in the 20th Century, many postcards views of Main Street, village homes and mansions, churches, inns, landmarks, and scenic landscapes were published between 1900 and 1940.
Before World War I, many of the cards were printed in Germany on the finest color presses then available. The war forced American postcard publishers to turn to an old-fashioned method, and many views from 1916 to 1940 were literally hand-colored.
Most of the cards here were commissioned and sold by either H.P. Bissell's Drug Store, still in operation today more than a century after it was founded, or by George A. Mignerey, operator of the other pharmacy on Main Street, or H.D. Smith, another pharmacist.
Jack Sanders, who compiled these pages, is always interested in acquiring old Ridgefield postcards. He can also produce scans, or enlarged, full-color copies, suitable for framing, of more than 600 different cards, only a few of which are shown here. He is also available to do a digital slide show on big screens, showing more than 100 old postcard views of Ridgefield. (Digital projector must be provided!) For more information, please e-mail him at jackfsanders[at]yahoo.com.
More images are posted periodically.
Last updated Sept. 3, 2010.
---
New 'Old Ridgefield' postcards: We've published a series of new cards using century-old color postcard pictures. Click here.

Postcards for sale: For Ridgefield cards, click here. For non-Ridgefield cards, click here.

Index of more than 600 postcards in the Ridgefield collection. (Large page, be patient with download.)

If you'd like a 56-page, extensively illustrated guide to tours of the village of Ridgefield, get a copy of Five Village Walks.

Check out our RidgefieldHistory.com.

Postcards wanted: We are always looking for old Ridgefield cards. Click here.

---
Entire contents copyright © 2010 by Jack Sanders. Text or images may not be reproduced without the permission of the author.
---