Grovelawn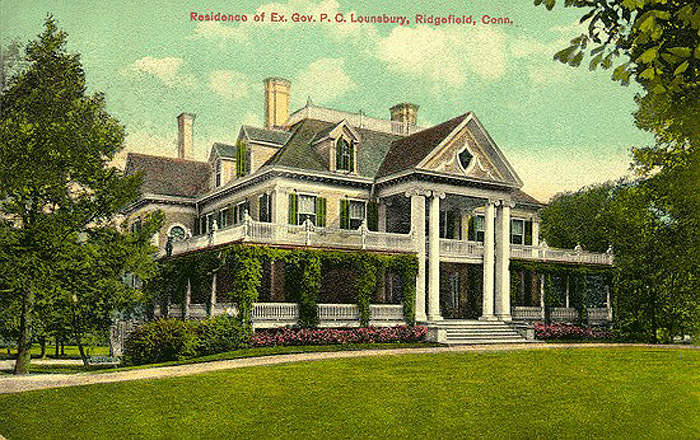 Phineas Chapman Lounsbury was born in the Farmingville section of Ridgefield in 1841. He left town at the age of 16 to, as he put it, seek his fortune, which he set at $10,000, so he could marry his sweetheart, Jenny Wright. At his death in 1925, he was worth many times his youthful goal: close to $1 million in 1925 dollars.
For a while he worked in his brother George's shoe factory in Norwalk, but Phineas was more interested in politics. In 1874, he was elected to the State Legislature from Ridgefield. He then got a job as head of a New York City bank. By the 1880s, he was back in politics, and in 1887 was elected to a two-year term as governor of Connecticut. (Older brother George was governor from 1899 to 1901.)
When at the Columbian Exposition in Chicago in 1893, Phineas Lounsbury was taken by the design of the Connecticut Building. He had his existing house on Main Street moved to Governor Street (it's in this Governor Street view) and built Grovelawn, modeled after the Connecticut Exposition Building, in its stead.
Grovelawn remained in his family until shortly after World War II when the house, and most of the land in the block between Main Street and East Ridge, was purchased by the town as the Ridgefield Veterans Memorial Community Center. Part of the land today is used for Veterans Park School and for athletic fields. Two other houses on the property are rented.
Note that the card shows that the building was not originally all white as it is today. We are not certain of the original colors, but this and other post cards, as well as black-and-white photos of the era show that it was clearly painted in colors. Color would show off some of the fine moldings and other designs, mostly "hidden" today by the all-white paint job.