MAPS
Old maps showing Ridgefield, from the 1700s to the early 1900s.

WHO WAS WHO
Profiles of hundreds of noteworthy Ridgefielders of the past, from the 1700s through modern times.
PEOPLE
Notable Ridgefielders, a who's who of 400 interesting 20th Century residents.
RIDGEFIELD NAMES
A history of the town through its more than 1,200 place names.
TIMELINE
A timeline of more than 3,000 Ridgefield events from 1700 into 2008.
PICTURES
Views of Ridgefield 100 years ago from old postcards.

PICTURES TO MAIL!
We have published a line of postcards, using century-old pictures.

OLD RIDGEFIELD
If you are on Facebook, join us for a look at scores of old pictures of Ridgefield, plus lots of reminiscences.

DIARY OF JARED NASH
Extensively annotated life of an 1860s Ridgefield farmer.
OBITUARY INDEX
An index of obituaries in The Press between 1875 and 1999, plus other information on obituaries.
CEMETERIES
History, lore, data, and more about the town's two dozen cemeteries, with photos.
RIDGEFIELD HISTORY SHOP
Books, postcards, maps, etc., related to Ridgefield and area history, for sale..
BOOKS ON RIDGEFIELD
Mostly histories, in and out of print.
FIVE VILLAGE WALKS
A 54-page, fully illustrated guide to village history.
HISTORICAL SOCIETY
A site devoted to Ridgefield Historical Society and its Scott House home.
BENEDICT ARNOLD
In Ridgefield, he was a hero. We even issued medals in his memory!
NEWSPAPER ARTICLES
Recent past articles in The Ridgefield Press are archived online, but cost $2.95 to download.
QUESTIONS?
Have a question about Ridgefield history? Give us a try.
on RidgefieldHistory.com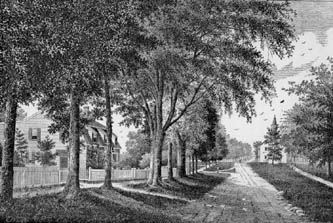 Main Street, looking south, 1875
Ridgefield, Connecticut is rich in early American history. Purchased from the Ramapoo Indians in 1708, the town became the scene of the Battle of Ridgefield that starred General Benedict Arnold, then considered a hero. For more than two centuries, Ridgefield was an agrarian community. But in the late 1800s artists and writers (including six Pulitzer Prize winners and one Nobel laureate) as well as leaders of finance and industry began to discover its charms. Ridgefield also offered a new home for countless immigrants from Ireland, Germany and Italy, and finally, a home for the modern commuter. Through its 300 years, the town has had many stories to tell. Here, on RidgefieldHistory.com, are some of them, found in its people, its place names, maps, postcards, and, of course, its cemeteries. ~J.S.
Entire contents copyright © 2017 Jack Sanders
---

---