Ridgefield Names

A history of a
Connecticut town
through its place names
on RidgefieldHistory.com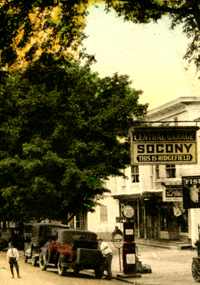 "This is Ridgefield,"
sign at the Central Garage,
Main Street, Ridgefield, Conn., ca 1928
To the scientist, the librarian, or the postman, a name is a means of identification. But a name can be more than simply a label — we might all be calling each other by numbers if that were true. Names are often a source of knowledge, of history, even of romance. And it is to record not only the fact of, but also the history and, where possible, the significance of Ridgefield's geographical names that this record has been compiled.

Moving to an unknown land, the first settlers needed names for the features of the territory to provide some mutually agreed upon manner of identification. Even among themselves, the pioneers had to create some new names; there were two Samuel Smiths among the first settlers. So the one who moved here from Milford was usually called "Milford Samuel Smith" — sometimes just Milford Smith" — while the other was called "Norwalk Samuel Smith."

The Ridgefield pioneers had three chief sources for the names they applied to parts of town: the language of the native Indians; the features, appearances, or uses of the land, including the terrain and wildlife; and the names of the people themselves. Some of the names used 250 years ago survive today: Whipstick, Flat Rock, West Mountain, Titicus, Silver Spring, Limestone, and Bennett's Farm, for instance. Many, however, had disappeared from use by the 20th or even the 19th Century, and with them unfortunately went part of the town's early heritage. For Ridgefield in the 18th Century had a wealth of colorful names. Brimstone Swamp, Pompion Ridge, Toilsome, Peespunk, Cradle Rock, Dutchman's Swamp, Turn of the River, Turkey Island, Buckspen Swamp, Asprumquak, Grassy Island, Nisopack, Asoquatah, and many others have disappeared, except from early land records....

--From the Introduction to Ridgefield Names.

NOTE: This text, much of it scanned from manuscripts, contains many typographical errors. These errors are being corrected. In addition, this history is being updated and revised. New names and new information about old names are being added.

---
I hope to be able to publish Ridgefield Names in book form, with many illustrations, when time and finances allow.
~
Jack Sanders
91 Olmstead Lane
Ridgefield CT 06877
203-438-5944
jackfsanders[at]yahoo.com

---
Other Sources
---