St. Mary's Church and Rectory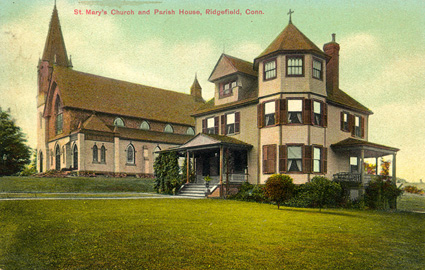 St. Mary's Church is a Victorian Gothic style building that has changed little since it was built in 1896. The Ridgefield Preservation Trust, a predecessor of the Ridgefield Historical Society, called it "one of Ridgefield's finest buildings…a complex and disciplined design which reflects the idealistic romantic approach to architecture of the Victorian age."

This splendid LithoChrome view, printed around 1910 in Germany for H.P. Bissell's pharmacy, shows the parish house or rectory. Unfortunately, to save money, this fine building was torn down in the 1970s when the pastor decided the priests would live at St. Mary's School building since the school itself had just closed. Today, the site remains an empty lot.