Other information
Wildflower books
Other books by Jack
E-mail the author
---
NOw IN PAPERBACK!
---
Updated 3/29/2017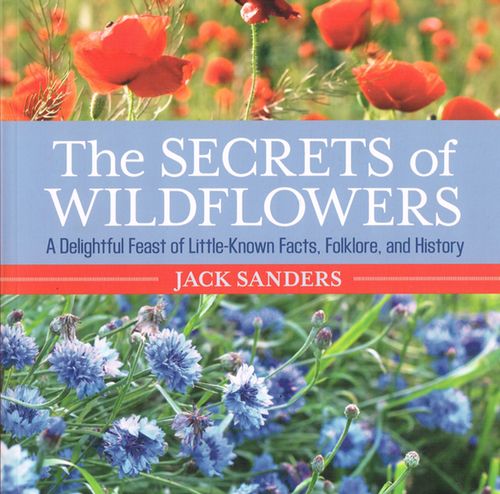 is the book for you
Natural history, folklore, historic and modern uses of plants, name origins, horticulture, literature, and even a bit of humor.

74 chapters covering hundreds of North American wildflowers, both natives and aliens.

More than 90 color photographs illustrating interesting and popular wildflowers.

Huge bibliography with comments on each book and tips on how to find out-of-print titles.

Guide to World Wide Web sites on wildflowers.

Extensive index.

320 pages, hardbound, first published April 2003 by Lyons Press, an imprint of Globe-Pequot.
¯ ¯

¯

Jack Sanders's colorful tribute to wildflowers is bursting with odd facts, ingenious uses, and bizarre superstition about some of North America's most beautiful and common plants. There are more than 10,000 varieties of wildflowers in North America, some rare, some incredibly plentiful. Each has a unique story.


There's Bouncing Bet, a perennial common along roads and railroad tracks,. It's a beautiful plant, but also a useful one. Its sap makes a fine soap. Colonial beer makers used to put a dab in to help the head on a brew. Doctors used it to wash wounds.
Or Coltsfoot, which pops up almost alone in winters, and was used in New England as a cure for coughs. Asthmatics used to smoke it for relief. For many. years, apothecaries in France used Coltsfoot as a symbol, a surprising pedigree; for a neglected "weed."
More a companion than a field guide, The Secrets of Wildflowers is must-have for anyone who enjoys a walk in a meadow or a gaze outside.

--from the publisher

¯ ¯

¯

Jack Sanders is a former editor for Wildflower magazine and has written about wildflowers for The New York Times. The retired editor of The Ridgefield Press, he lives with his wife, Sally, in Ridgefield, Connecticut.